Hairdresser Heroine
November 9, 2020
With over one thousand created characters, it has been said that one will never meet a person whom they hadn't encountered within the pages of a Charles Dickens novel. In David Copperfield, retired clergyman Larry Hicks finds a heroine who reminds him of a childhood friend.
TRANSCRIPT:
I'm Larry Hicks and I have to confess I've had a long-term "love affair" with a wonderful little eccentric character named "Miss Mowcher" in David Copperfield. This cosmetologist by trade begins in chapter 22 as a volatile slippery character, continues in chapter 32 as a more reflective and wise instructor, and ends in chapter 61 as a heroine! Let's listen in on this minor literary character, a very bright and intriguing woman, beginning with her first appearance before Copperfield as a surprise guest of Steerforth in chapter 22, narrated by Copperfield.
"I beg your pardon, sir.  Miss Mowcher is down here." (spoke Littimer)
"Who?" cried Steerforth, much astonished.
"Miss Mowcher, sir. . ."
"Do you know the Giantess in question, Daisy?" inquired Steerforth.  I was obliged to confess - I felt ashamed . . . that Miss Mowcher and I were wholly unacquainted.
"Then you shall know her," said Steerforth, "for she is one of the seven wonders of the world."  Speaking to Littimer, "when Miss Mowcher comes, show her in." . . . when the door opened and Littimer, with his habitual serenity quite undisturbed, announced: 'MISS MOWCHER!"
. . . . to my infinite astonishment, there came waddling round a sofa, which stood between me and it, a pursy dwarf, of about forty or forty-five, with a very large head and face, a pair of roguish gray eyes, and such extremely little arms that, to enable herself to lay a finger archly against her snub-nose as she ogled Steerforth, she was obliged to meet the finger half-way, and lay her nose against it.  Her chin, which is what is called a double-chin, was so fat that it entirely swallowed up the strings of her bonnet, bow and all.  Throat, she had none; waist, she had none; legs, she had none worth mentioning . . . after ogling Steerforth for a few moments, she broke into a torrent of words.
"What!  My flower!' she pleasantly began shaking her large head at him.  "You're there, are you!  Oh, you naughty boy, fie for shame, what do you do so far away from home?  Up to mischief, I'll be bound.  Oh, you're a downy fellow, Steerforth, so you are, and I'm another, ain't I?  Ha, ha, ha . . . but go along, you dog, do . . . and don't be impudent!  But I give you my word and honor, I was at Lady Mither's last week - there's a woman!
. . . "What were doing for Lady Mithers?" asked Steerforth.
"That's telling, my blessed infant." . . .  "Never you mind! You'd like to know whether I stop her hair from falling off, or dye it, or touch her complexion, or improve her eye-brows, wouldn't you?  And so you shall, my darling - when I tell you!"
. . . She had by this time drawn the chair to her side, and was busily engaged in producing from the bag a number of small bottles, sponges, combs, brushes, bits of flannel, little pairs of curling irons, and other instruments, which she tumbled in a heap upon the chair. From this employment she suddenly desisted, and said to Steerforth, much to my confusion, "Who's your friend?"
"Mr. Copperfied," said Steerforth; "he wants to know you.
"Well, then, he shall". . . Miss Mowcher, waddling up to me, bag in hand, and laughing on me as she came.  "Face like a peach!" standing on tiptoe to pinch my cheek as I sat. "Quit tempting!  I'm very fond of peaches,  Happy to make your acquaintance, Mr. Copperfield, I'm sure."
I said that I congratulated myself on having the honor to make hers, and that the happiness was mutual.
"Oh, my goodness, how polite we are!" exclaimed Miss Mowcher, making a preposterous attempt to cover her large face with her morsel of a hand.  "What a world of gammon and spinnage it is, though, ain't it?" This was addressed confidentially to both of us, as the morsel of a hand came away from the face and buried itself, arm and arm, in the bag again.
"Look here!"  taking something out. "Scraps of the Russian prince's nails! Prince Al-pha-bet turned topsy-turvy, I call him, for his name's got all the letters in it, hig-gle-dy, pig-gle-dy. . . The prince's nails do more for me in private families of the genteel sort than all my talents put together. I always carry 'em about. They're the best introduction.  If Miss Mowcher cuts the prince's nails, she must be all right.  I give 'em away to the young ladies.  They put 'em in albums, I believe.  Ha! Ha! Ha!  Upon my life, 'the whole social system' (as the men call it when they make speeches in Parliament) is a system of prince's nails!"
Miss Mowcher next appears in chapter 32. This brazen little lady is still very forward and strong but is reflective, having realized she had been used by Steerforth and not in a good way. Now, the narrator, upon hearing a tap at the door, opened it and in amazement saw nothing but a great umbrella that appeared to be walking about of itself. But underneath it was Miss Mowcher. Her "volatile" expression was now missing, having been replaced by a very earnest look. "I am surprised," Copperfield began, "to see you so distressed and serious. Perhaps I ought not to be at all surprised to see you as you are now: I know so little of you. I said this, without consideration, what I thought."
"What can I do?" returned the little woman, standing up and holding out her arms to show herself.  "See!  What I am, my father was; and my sister is; and my brother is.  I have worked for sister and brother these many years - hard, Mr. Copperfield - all day.  I must live.  I do no harm.  If there are people so unreflecting or so cruel, as to make jest of me, what is left for me to do but to make a jest of myself, them, and everything?  If I do so, for the time, whose fault is that?  Mine?"
. . .  I am thankful for myself, at any rate, that I can find my tiny way through the world, without being beholden to any one; and that in return for all that is thrown at me, in folly or vanity, as I go along, I can throw bubbles back. If I don't brood over all I want, it is the better for me, and not the worse for any one. If I am a plaything for you giants, be gentle with me."
Miss Mowcher does not appear again in the book. But we hear about her in chapter 61, where a "dwarf" is spoken of as a heroine who not only discovered the now criminal Littimer trying to escape to America in a disguise of "flaxen wig and whiskers" but who captured him too! The narrator concludes, "When the little woman, being in Southhampton, met him walking along the street - picked him out with her sharp eye in a moment - ran betwixt his legs to upset him - and held on to him like grim death." And at the trial, she is said to have given her evidence against Littimer "in the gamest way, and was highly complimented by the Bench, and cheered right home to her lodgings. She said in court that she'd have took him single-handed (on what she knew concerning him) if he had been Samson. And it's my belief she would!"
In thinking about why I chose to read about Ms. Mowcher or my video for Dickens on the go. I reflect back to a friend of mine named Ronnie Smallwood. Ronnie was a junior when I was a senior in high school. He was small as his name implies. Actually, his whole family was very small. But small did not define Ronnie. He was smart and witty and winsome, and as steady as a rock as a friend. When I first read David Copperfield, I think Ms. Mowcher reminded me of the Smallwood family of my youth.
Scholars tell us that Dickens created Ms. Mowcher from a family chiropodist named Jane Seymour Hill. And Ms. Hill was not too impressed with Dickens's early portrayal of herself in the person of Ms. Mowcher. But as Ms. Mowcher's character developed into a heroine, I'm sure Ms. Hill would not have minded. If Dickens had added her Christian name to Ms. Mowcher, Jane Mowcher. Hm. Well, maybe a little eccentric, "Ain't I volatile" as she would say. Ms. Mowcher is always smart, witty, and even very brave. And I like her, so I guess that's why I picked Ms. Mowcher.
---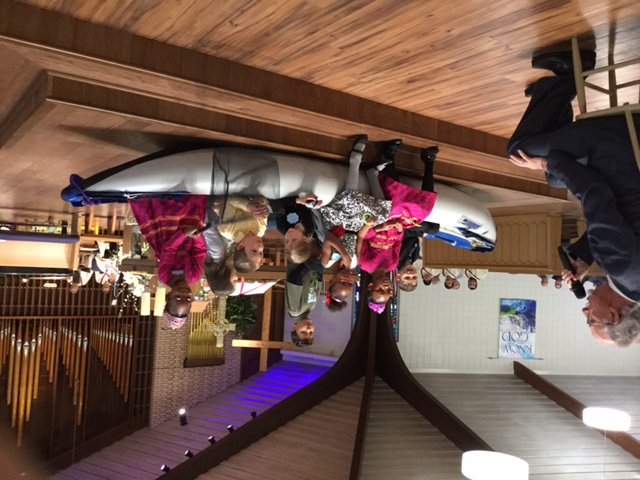 Larry Hicks is a Doctor of Ministry (Pittsburgh Theological Seminary, Pittsburgh) and retired clergyman. He served as a Navy Chaplain at bases and ships worldwide and in professional ministry positions in churches in Michigan, Wisconsin, Ohio, and Indiana. He is married to Judy and father to two daughters, April (and husband, Alex, and two grandsons) in Chicago, and Amy (and husband Geoff) in Anaheim.
---
Dickens-to-Go is a weekly program of short videos designed to whet the viewers' appetite for "more" of their favorite author. You can join Dickens Project faculty, friends, and students as they share a favorite passage from Dickens and say a few words about why they selected it.
What are your favorite passages? We hope you will make a video too! Email Courtney Mahaney for video submission guidelines.