Another change was the addition of a pre-conference meeting. For many years, the Universe was followed by a shorter weekend conference that ran from Thursday evening to Sunday. That conference was discontinued several years ago, but this year, a pre-mini conference held July 27-29, Form and Reform, examined the Reform Act of 1832, which drives much of the plot of Middlemarch, and the relation of aesthetic form more generally to its 19th-century historical context. Several speakers and attendees stayed over, and an afternoon seminar during Universe week continued the discussion.
The Dickens Project prepared an Annual Report in May at the request of the UC Office of the President, based on its status as a multi-campus research unit. In the report, Director John Jordan outlined the mission and goals of the Project, which are worthy of note here:
Mission: The mission of the Dickens Project is to promote and carry out research on the literary works and culture of Charles Dickens's Victorian Britain and to bring the results of this research before an audience of scholars, students, and members of the general public.
Goals: The Dickens Project has four closely related, mutually reinforcing goals:
To promote and carry our collaborative interdisciplinary research on Charles Dickens and the culture and society of 19th-century Britain;
Through regular conferences and publications and especially through its annual summer institute—the Dickens Universe—to bring the results of this research before an audience of scholars, teachers, undergraduates, and members of the general public;
To train graduate students who will become leaders of the next generation of 19th-century scholars;
To encourage and support the teaching of novels by Dickens and other 19th-century writers by producing curricular material and organizing workshops, including regular NEH summer seminars for college and high school teachers.
With the mission and goals in mind, the 2017 Dickens Universe got underway July 30, with 78 faculty and 70 graduate students checking in the day before for orientation. This year, the artwork on the cover of the conference program, as well as banners that advertised the conference in downtown Santa Cruz, was designed by USC undergraduate Kenia Coyoy, a past winner of the high school essay contest via the Neighborhood Academic Initiative Program, who has now attended the conference for three years. Her rendering of the silhouette of a woman's head filled with "plans" against a starry "universe" anticipated many of the week's talks, which kept returning to the image of a "web," in various forms, within the novel. Kenia, who has already secured a position at a graphic arts firm after her graduation from USC, also did the artwork for this year's sweatshirts and T-shirts. She was joined at the conference by 18 other undergraduates, one of whom was the community college essay contest winner, and by two of the four NAI high school essay-contest winners for this year.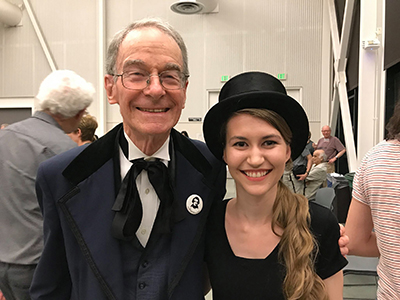 After dinner in the large College Nine and Ten Dining Commons, which is a multi-faceted dining hall offering a variety of both dining and seating choices, participants moved to an upstairs room in the elegant University Center, which houses the Dining Commons and the Multipurpose Room on the first floor and a number of attractive meeting rooms on the upper floors, for post-prandial potations. Unfortunately, although the venue was elegant, the logistics did not work out the first night, and the popular "PPP" event was moved to the back of the Multipurpose Room adjacent to the cafeteria, where all lectures were held, for the rest of the week.
John Jordan started the week by remarking that the choice of Middlemarch was "a controversial move." Some attendees, he said, stayed away in protest, but that made room for new people, several of whom were here for the first time because of George Eliot. This conference, he reminded the audience, is "the most important annual meeting" for academic discussion of Dickens. It continues to draw a mix of people who live together for an entire week discussing a single novel, and the momentum endures even in a year when Dickens is not at the forefront. "There are very few authors who can do this for 37 years," Jordan said. He then thanked Pacific Grove resident Howard Burnham, a member of the Monterey Peninsula Dickens Fellowship, for his donation of the desk used by Emlyn Williams in his reading performances of Dickens's work. The desk, a replica of the one Dickens used, remained on the stage throughout the week and will be added to the Special Collections room at the university. Jordan also introduced the conference organizers, Nancy Henry of the University of Tennessee, Knoxville, and Jonathan Grossman of UCLA. He also introduced the new Friends of the Dickens Project president, former Project assistant director JoAnna Rottke, who replaces Dan Atwell. Dan will continue to serve as auctioneer and Grand Party organizer. Both JoAnna and Dan were roundly applauded.
David Kurnick of Rutgers, in his Sunday evening lecture titled "Everyday Ecstasy," focused on the three paragraphs of the Prelude to the novel as a microcosm. He traced the progression of the introduction through Eliot's expansion of her topic in each paragraph, from "St. Theresa" to "Many Theresas" to "Women," alongside an expansion/contraction from "the history of man" to "that Spanish woman" to "women." Drawing on his title, he outlined a number of seeming opposites in the novel, saying that Middlemarch "connects the ordinary to the erotic." The spiritual and the material, the classical past vs. the Roman Catholic present, realism vs. abstractions, personal vs. sociological considerations, and more, are juxtaposed throughout. And Dorothea manages the opposites that confront her: despite a marriage that is seriously lacking both spiritually and materially, she does discover what Kurnick called in Middlemarch the "common yearning of women," and "lives it in full view." Kurnick started his lecture on a Dickensian note, asking if Dorothea world turn out to be the hero of her own life. Chapter 20, he said, answers this question, as well as the questions raised in the Prelude. It shows what type of heroine Dorothea will be. Recognizing the "enclosed basin" of the reality of her marriage as opposed to the open sea of knowledge and feeling, she also in this chapter understands her resistance to that reality. Actually, Kurnick said, "None of us are the heroes of our own lives. We feed from a common store." In its exploration of what he called "an ecstatic relation to commonness," Middlemarch "looks forward to 20th century novels. He closed the keynote lecture by saying, "Welcome to modernity, welcome to the Universe, welcome to Middlemarch."
After the Sunday evening lecture, there was a showing of two films: George Eliot, A Scandalous Life (BBC, 2002), and Part 1 of Middlemarch (BBC, 1994). Showings of the parts of Middlemarch continued in the evenings throughout the week and were repeated in the afternoons for those who retired early.
After breakfast in the Dining Commons, early morning discussion groups met with faculty members: Taryn Hakala, UC Merced, and Gerhard Joseph, CUNY; Beth Newman, Southern Methodist University, and Jeffrey Spear, NYU; Alison Booth, University of Virginia, and Teresa Mangum, University of Iowa; Jill Rappoport, University of Kentucky, and James Williams, University of York; and Sarah Henstra, Ryerson University, and Jennifer McDonell, University of New England. These groups focus on the historical context of the novel, and discussions ranged from the Reform Act of 1832 to women's rights to money and more, themes that were repeated in other venues throughout the week.
On Monday morning, Renee Fox of UCSC introduced Summer Star, of SFSU, who delivered a lecture titled "Of Many Minds in Middlemarch." Star started with a portrait of a young Mary Ann Evans, asking the audience to think about the image while she read an 1840 letter that talked about having just made red currant jelly. Evans served as acting housekeeper after her mother died, which gave her intimate knowledge of the "ordinary objects in life." Yet, Star said, the "smothering threat of domesticity didn't allow her to make sense of her intellectual knowledge," and her interest in the mind developed into what Star called "many-mindedness," a state we know today as multitasking. But did multitasking in George Eliot's world, as portrayed in Mrs. Garth's kitchen, as she cooks, teaches, and supervises simultaneously, have a positive or negative effect? When it comes down to education vs. domesticity, can we, like Mrs. Garth, maintain mental independence while completing outward tasks? Or does one task suffer? Star spoke of "otherness" within oneself that can correspond to the "permanent" self over time; like Mary Ann Evans, we can engage in repetitious domestic tasks while at the same time not losing our ability to grow intellectually. Star underscored the repeated concept of the "web" in Middlemarch and raised the problem of functionality in a woven web vs. a "tangle," but she pointed out that in Middlemarch, there is a "temporal dimensionality": similar to a multitasking individual, the novel itself contains events that occur simultaneously. "Other parts of the web are actively interweaving even when the reader is not aware of them," she said. Readers are made to believe that conversations that happened while the focus was not on them really did take place, and this result is because of Eliot's carefully planned details—her "deep weave." The negative side of the web can also be seen, she said, in the darker side of the novel; one example is Caleb Garth's statement to Bulstrode that the information he has received "hurts my mind." Star interprets this statement as meaning that multitasking—trying to decide between two choices—is what "hurts," not bothers, or disturbs, the character's "mind," not his head. So, Star asked, is multitasking an attempt to escape? Or to enlarge? "Is Middlemarch a message to aspire to multitasking? Or a warning—'don't try this!'?" Eliot, she said, with her many metaphors for "the mind," wants people to treat minds as "animate, mobile, busy," Star concluded.
After lunch, conference-goers enjoyed repeats of the evening's films, and graduate students attended seminars. The popular Dickensian Seminar was also offered, let by Christian Lehmann of USC in the absence of Stanford's Rob Polhemus. Undergraduate and summer session students also attended afternoon seminars, and the high school teachers' workshops, retitled to "Approaches to Dickens and Eliot" to encompass both high school and community college instructors, were held. There were also scheduled field trips to the Collective Museum on Tuesday and the Marine Center on Wednesday, and the Road Scholars visited the University's Special Collections on Friday. The popular afternoon Victorian Teas, sponsored and served by the Friends of the Dickens Project, returned this year to a patio venue reminiscent of the Universe's original location at Kresge College, after many years on the lawn at Rachel Carson College. Abundant towering redwoods provided shade for the serving of hot Earl Grey tea and iced tea punch, and partially relieved guests in the week's muggy heat.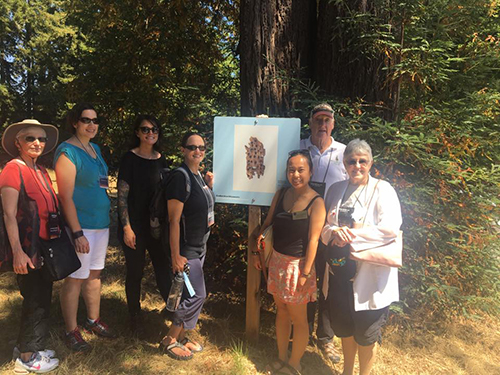 Afternoon lectures throughout the week included Monday's "George Eliot's Horses" by Nancy Henry of the University of Tennessee, Knoxville;  "George Eliot and Money," on Tuesday, by Dermot Coleman, an independent scholar; a presentation titled "MiddleLab: Novel Readings in South L.A.," by Jacqueline Barrios and Paul David Story of NAI and Jon Varese of the Dickens Project, which related NAI's attempt to immerse students in Middlemarch with a combination of literature, performances, and art projects; and "A New Opera: Middlemarch in Spring," on Thursday, presented by the opera's librettist, Claudia Stevens of the College of William and Mary. Middlemarch in Spring focuses on Dorothea's story and was named one of the Top 10 Operatic Events in 2015 by the San Francisco Chronicle. It premiered on the East Coast (in Charlottesville, VA) in March of this year. Stevens' husband, Allen Shearer, is the composer of the opera. Also held after the teas were graduate workshops (on such topics as pedagogy, presentations, journal publication, writing, job market, and public scholarship) and Victorian dance lessons in preparation for Friday's dance, led by dance instructor Annie Laskey.
On Monday evening, with the post-prandial potations moved to the Multipurpose Room, the stage was set for bidding on silent auction items and buying T-shirt, sweatshirts, and various Dickens- and Eliot-related items. The blue-hued portrait of Charles Dickens from the Kresge Town Hall, which had been absent Sunday evening, had been returned to the stage, but it was placed behind the potted ficus benjamina at the rear. Thus Dickens was not at the forefront of the "Eliot Universe" week but silently oversaw the proceedings.
On Monday evening, John Jordan introduced the community college essay contest winner, Maria Nuñez Romero of Pierce College in Woodland Hills, whose essay, "Wife for Hire: The Paradox of Victorian Emotional Work," was printed in the program; the two NAI high school essay contest winners, Kimberly Mejia and Hunter Wilkinson; and USC student and graphic artist Kenia Coyoy. NAI instructors Jacqueline Barrios and Paul David Story of Foshay Learning Center, who accompanied the NAI students, were also introduced, and Jordan encouraged attendance at their presentation on Wednesday afternoon.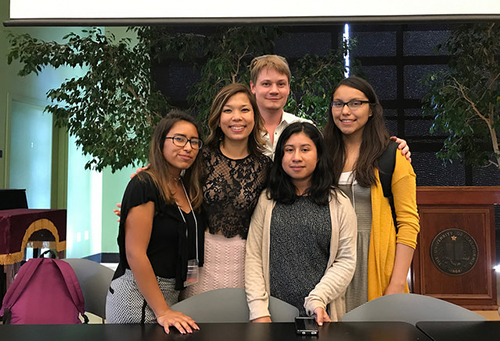 Jill Galvan of the Ohio State University then spoke on "After Romance." She said that romance in novels is often "exotic, unreal," and used Dickens's Dombey and Son as an example: Florence marries Walter only after experiencing great pain, and Edith and Paul Sr.'s marriage does not end well. In Middlemarch, she said, troubled marriages are by contrast not "fantastic or florid"; rather, she spoke of Eliot's "conscious awareness of her own fictioning," and the fact that she was not a "romancer." Psychological analysis of characters in her fiction find them running up against what Galvan called "mental realism," which, she said, trains the reader to slow down. From mental realism, there is a "downshifting to marital realism," as evidenced by Mrs. Bulstrode's reaction to finding out about her husband's activities. There are no questions, but she is willing to change her appearance—and her life—for him. Will Ladislaw and Dorothea are closer to "romance," but, Galvan said, Eliot "has it out" for the poetic tradition. Her epigraphs evoke troubadours and their songs: is Will an exaggerated "troubadour" or courtly lover, with Eliot mocking his idealism? The third part of Galvan's talk touched on "deforming the marriage plot." There is, she said, an "intensive formalism in love and marriage," and Eliot does, in the end, form a typical marriage plot, but she "never promises to fulfill our dreams of possibilities for her characters," going against the traditional romantic novel's outlook.
On Tuesday morning, Jos Lavery, of UC Berkeley,  presented his lecture titled "Some Pronouns for the Author of Middlemarch." He prefaced his talk by saying, "When I tell my friends and colleagues about this conference, it's very clear that I am describing a kind of utopia." His lecture focused on questioning pronouns, which are, he said, "nearly invisible," in both the novel and in referring to the author. In the novel, he said, pronouns often refer to people and things they don't represent—things that are not there. He included what he called "an inductive set of readings," passages containing pronouns that, for example, reveal that Dorothea seldom refers to her husband by name; "He" is the preferred word for Edward. Lavery cited Émile Benveniste as saying, "Language is possible only because each speaker sets himself up as a subject." "I" and "you," Lavery said, thus fix spouses in their places. In the second part of his talk, Lavery said that the characters in Middlemarch "function under the possibility of being talked about." Even Causabon's codicil has the specific purpose of starting a rumor. Lavery also read part of Charles Dickens's 1858 letter in which Dickens suspects Eliot is a woman, and Eliot's response to it. Is Ladislaw, Lavery posited, a "surrogate for a trans-author function?" Ladislaw is, according to Henry James, "a woman's man," and is the only character that has a major presence in both the Dorothea plot and the Middlemarch plot. Was "George Eliot" merely a way to get published, or was the name more? And, Lavery asked, why do we refer to George Eliot and not to Currer Bell? What pronoun do audience members use in referring to George Eliot? Pronouns, Lavery concluded, "transgress the limits of the novel."
Tuesday evening ended up being, unexpectedly, a free evening. Daniel Bivona of Arizona State, scheduled to speak on Wednesday morning, fell and was taken to the hospital in San Jose (he has recovered), so the Tuesday evening lecture was cancelled, and that speaker was moved to Wednesday morning, leaving Tuesday evening open for an early showing of the movie.
On Wednesday morning, long-time Universe participant Helena Michie of Rice University presented "Privacies: Or, Middlemarch, Interrupted" as the Herb Furse Memorial Lecture. Herb Furse, one of the co-founders of the Friends of the Dickens Project, was an antiquarian bookseller from Chicago who is remember for having donated generously to the Dickens Universe from the proceeds of his book sales, a forerunner of today's auctions and mini book fair that take place during PPP.  Michie started by outlining how she reads—often interrupted, she said, by stopping to look up words. Throughout Middlemarch, three words caught her attention and helped her think about interruptions and disconnections in the novel: pilulous, privacies, and geognosis. The first part of her talk, which was not, in itself, pilulous, returned the audience to the "web" concept that envelopes both the novel Middlemarch and the town of Middlemarch itself. But Michie talked about the "pilulous, " or "pill-shaped" aspect of the courtship/marriage plot within the novel, where the gossamer strands of a web are pinched into a pill. "Victorian novels make courtship into something big," she said, "but Middlemarch makes pilulous the courtship between Dorothea and Casaubon." (In looking up the word "pilulous," by the way, Michie found that its earliest use was listed as Middlemarch.) The second part of her talk, "privacies," echoed Kurnick's keynote lecture as she traced the large to the small in the opening of Chapter 19, the honeymoon chapter: George the Fourth and the Duke of Wellington, Mr. Vincy's corporation, and Dorothea's marriage.  Honeymoons, obviously, are private. But what is the relationship of marriage to the wider world? Fred's problems intrude on Rosamond's marriage, as do other worldly problems, yet in the end her marriage endures. Does Dorothea's first marriage fail because it is "closed"? Her marriage to Ladislaw, in contrast, embraces the public good. Michie's third word, "geognosis," led her to an accompanying analysis of the world as it relates to the community of characters in Middlemarch. Dorothea falls in love with Casaubon's knowledge of the world. Even in Dorothea's visit to Naumann's studio during her honeymoon, Eliot speaks of the "work of the world." Will refuses to leave Middlemarch for the world. In the end, Michie said she hopes that those in the audience who have read Middlemarch once will return to it, and "feel free to stop at any time."
Wednesday evening was a scheduled free evening, and many participants had made advance plans to attend Santa Cruz Shakespeare's Two Gentlemen of Verona at Delaveaga Park. Others took the opportunity to catch up on reading, sleep, or the movie showings.
On Thursday morning, Ruth Livesey, of Royal Holloway, University of London, spoke on "On Writing from the Middle: Middlemarch, Eliot's Midlands, and the Structures of Provincial Fiction." There is a difference, she said, between "provincial fiction" and "regional fiction." Provincial fiction such as Middlemarch could be anywhere; although there is plenty of geography that ties it to a real place, she said, it is not "regional" in the sense of being set in a specific town. The Midlands, she said, are "on the way to everywhere," and thus not productive of strongly regional stories. (Livesey illustrated her lecture with her own representative photos, showing places she believed could correspond to some of Eliot's descriptions.) Provincial fiction, she said, moves between looking at what is going on with a microscope and a telescope. She revealed a map of England that looked suspiciously like a web, but she remarked that even though Middlemarch is the "middle march" (a "march" in this sense comes from the same root as "mark" in "landmark," or border), the action in the novel actually happens elsewhere—Lowick, Tipton, Freshett. Within the "center" of Middlemarch, which is not really the center, there are also examples of "close vs. distant." The gentry, in chapter 34, are "dotted apart on their stations up the mountain" and look down on the "belts of thicker life below." In this "us vs. our neighbors" world, Livesey said, Eliot feels we should follow Dorothea's path rather than remain remote. There is also in the novel a critique of change and, as Livesey called them, "deliverances." Reform will give a voice to the middle, she said, but not to women. Yet Dorothea does not fade away; although she leaves the gentry behind, she experiences a beginning as well as an ending.  There is in the novel, Livesey said, the "restless dynamic of being caught in the broken web."
Thursday evening of the Dickens Universe has for many years seen the presentation of a farce, but this year the farce was replaced by an original staged reading of a play, called A Most Dangerous Woman, by Cathy Templesman, presented by members of Santa Cruz Shakespeare,  It explored the life of George Eliot, starting with her work as an editor for John Chapman, her friendship with George Henry Lewes, and her bitter relationship with her brother Isaac. As Lewes encourages her to write fiction, she blossoms, and she can often "hear" people's thoughts as they pass by, adding to her store of ideas and imagination. When they evolve into her characters, they talk back to her, and she argues with them. The story moves through Lewes' death and her insistence that she is "Mrs. Lewes" rather than Marian Evans, to whom Lewes has left his estate. The excellent performance was applauded soundly by the attendees, who then dispersed for Thursday evening's traditional Grand Party in the Namaste Lounge below the University Center. This lavish party, hosted by the Friends of the Dickens Project, draws all attendees and boasts desserts, drinks, and other edibles, including a variety of cheese trays. Anticipated all week long, the Thursday evening party grew out of a simple "Sherry Party" held in the Friends Suite for the speakers that group sponsored, way back when there were just one or two Friends-sponsored lectures. With the loss of University funding and the need for the Friends to carry the lion's share of the costs of putting on the Universe, the party has become a huge "Thank You" to both donors and participants on the part of the Friends board of directors.
On Friday morning, Dickens's portrait had been moved to a more prominent place on the stage in preparation for George Levine's lecture, "The Dickensian George Eliot." Levine, who retired from Rutgers in 2006 but continues to publish, opened his talk by saying that George Eliot is "closer to me than anyone except Darwin and my family." But, he said, "It's time to talk about the elephant in the house," meaning Dickens. Eliot and Dickens, he said were cast by critics as rivals, but not only were they friends for decades, there are connections and similarities in their work. Dickens is known for his coincidences, but are there no coincidences in Eliot? "Any summary of Middlemarch has to sound Dickensian," Levine said. Characters find true love by giving up inheritances and are rewarded because of their morals. They move across social levels, find crime behind the narrative of an ordinary life, and deal with murder, money, and alcoholism, he said. However, there were also differences. Eliot and Lewes both critiqued Dickens, she saying that his writing contained too much comedy and sentimentality, and he saying that Dickens' work had a "pervading commonness" that could not be taken seriously. It could be said that Dickens presented good and evil; Eliot explored the social pressures that produced good and evil, according to Levine. But realistic fiction, he said, is a "moral exemplar" for both writers, and the fact remains that "Eliot's rise to greatest novelist came by way of Dickens's dead body." He paired Middlemarch and Little Dorrit as similar social critiques, and offered Dombey and Son and Silas Marner as both having elements of parable and fairy tale in them. So how Dickensian is Middlemarch? The complexity is similar, especially in Ladislaw's family history. There is pure melodrama in the fact that Dorothea is just about to give her answer to Casaubon when he dies. And Raffles is "very Dickensian," along with Joshua Rigg. "He belongs in a Dickens novel," Levine said. "He will not last long in Middlemarch. Yet Levine went on to say that "No page of Eliot's will ever be mistaken for a page of Dickens." He did not set out to prove, he said, that Eliot is like Dickens, but that they belong to the same ethical and moral culture. The idea of the "high" of Eliot and the "low" of Dickens has obscured the similarities. To close, he offered two passages that, he feels, similarly reflect the genius of both writers: Mrs. Bulstrode's coming to terms with her husband's past and David's presence at the discovery of Steerforth's body. Both passages, he said, which portray the responsibility of characters caring for a person who has betrayed them, "can only be dramatized with austerity and restraint," and both authors are successful. The passages are "too intense to be compared," he said, "but they push aside critics and reveal two great writers of mind and heart."
On Friday evening, auctioneer Dan Atwell roused the audience to another record-breaking auction take, and John Jordan announced the novel for next year: Little Dorrit. The announcement was followed by a Victorian Dance. Dance instructor Annie Laskey led participants, many of them costumed, through dances in the Multipurpose Room, to music provided by a band led by local musician Jim Oakden. Then, it was off to bed, with departures Saturday morning, and the close of another successful Dickens (or Eliot) Universe.