It's Christmas in June! As a virtual extension of the annual Dickens Universe held each summer on the campus of the University of California Santa Cruz, this lecture focuses on the origins and early theatrical adaptations and appropriations of A Christmas Carol, with a special focus on the story's genesis in The Pickwick Papers and its rather surprising reappearance in the guise of a turn-of-the-century sci-fi drama.

Featured Expert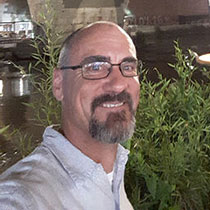 Marty Gould is an Associate Professor of English at the University of South Florida. Since 2011, he has led four month-long National Endowment for the Humanities Summer Seminars for School Teachers for the Dickens Project at the University of California, Santa Cruz. Topics have included "Great Adaptations: Teaching Dickens Through Literary & Cinematic Adaptations" (2011), "Great Adaptations: Dickens in Literature and Film" (2014), "Dickens: Hard Times and A Tale of Two Cities" (2016), and "Reimagining Jane Eyre and Great Expectations: Teaching Literature through Adaptations" (2019).
General Notes
The online lecture will take place live over the course of 1 hour. The time listed is in the EASTERN time zone. If you live in a different time zone, please adjust your schedule accordingly. This live online experience uses Zoom Webinar, an easy-to-use web video service that includes closed captioning. All you need is an Internet connection and your computer. You will receive a confirmation email when you enroll and a reminder email one week, one day, as well as the morning of the event with a link and instructions on how to tune in. You will not be pictured on-screen during the lecture, but you will have the opportunity to ask questions to the instructor live using the Q&A box. Unless otherwise noted in the lecture description, all those who enroll in this program can attend the live event and will also receive a recording of the lecture that you can watch any time within two weeks following the live event.