Emma Brodey, a junior at Yale University, reflects on her experience winning the Dickens Project's national high school essay contest to attend the Dickens Universe in 2013. This Q&A is part of our new series highlighting members of the Dickens Project and Dickens Universe community.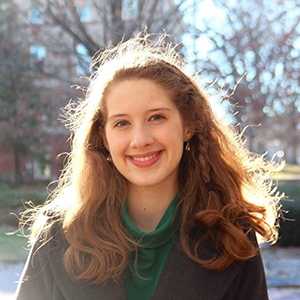 What prompted you to submit your essay to the contest?
I had attended the Dickens Universe the year before and wanted to be able to come to the conference again.
What was the title of your essay? What was the topic?
My essay was titled "Birds and Cages in Bleak House," and it was an examination of just that! I showed how Dickens uses metaphors of birds and cages to talk about the relationships between his characters and to reveal various kinds of societal cages.
Can you describe your experience with the Dickens Universe the year you attended?
I had such a wonderful time at the Dickens Universe. It was a long time ago, but I still remember how the graduate students took me under their wings and made me feel at home. I loved the discussion groups and the mix between the academic and the celebratory. I made friends that I kept as pen pals for years, and I still recommend the conference to anyone I meet who is interested in Dickens.
Where did life take you after your experience with the Dickens Universe?
After the Dickens Universe, I finished high school, graduated as valedictorian, and went on to study English at Yale. I took a gap year between high school and college and interned at the Chawton House research library in England. Most importantly, though, I help to run a Jane Austen Summer Program in North Carolina. Our program was initially inspired by the Dickens Universe and their wonderful project. We're now in our seventh year, and we've kept that mix of small discussion groups and larger lectures.
What are you currently doing?
I am a rising junior studying English at Yale University. This summer, I will be an intern at the Yale University Press.
Do you believe that your experience with the Dickens Universe affected your plans in any way?
Absolutely! My time at the Dickens Universe helped to show me that academia can be (and should be) wonderfully fun. Whatever I end up doing as a career, I hope I can bring that delight in literary discovery and enjoyment of bookish discussions over postprandial potations!
What are some hobbies and activities that you enjoy in your spare time?
I love reading and writing, of course. In college, I've become more involved in creative writing, particularly poetry. I've also started to learn the craft of bookbinding, and I now run workshops to teach students how to make books. It's great fun, and it feels wonderful to make something physical after a day spent largely writing papers on my laptop.
What are your goals and plans for the future?
My plans for the future are gloriously up in the air. I know that I love teaching and that I want a career that involves both books and people. I am considering work in academia, publishing, or even book preservation.
Thank you for taking the time to reconnect with us!