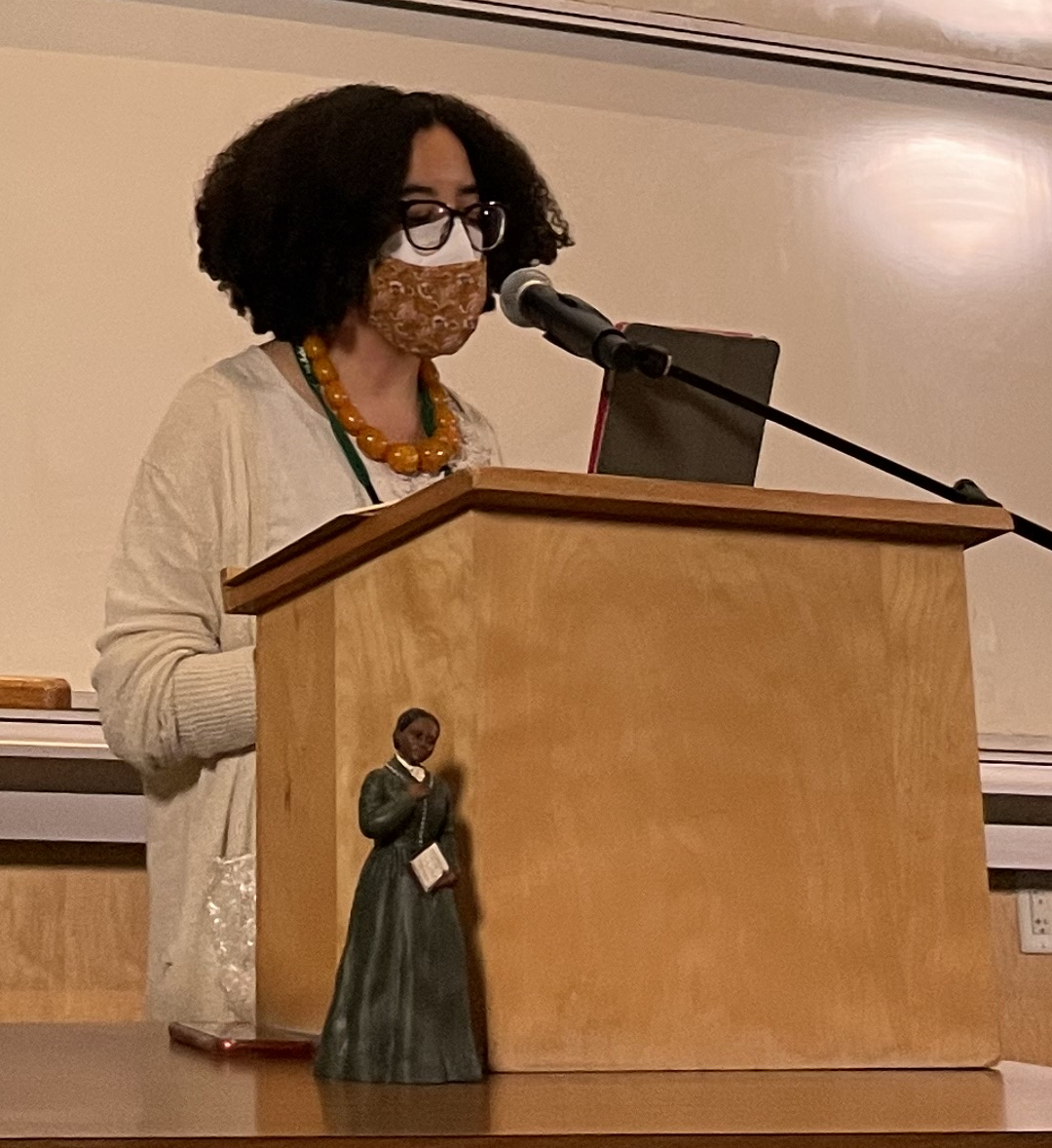 Dear Dickens Universe Participants:
I very much enjoyed participating in this year's Dickens Universe and chatting with various enthusiastic participants, many of whom were new to Harper or even to African American literature, more generally.
Because many people asked me for reading recommendations, I decided to put together a short(ish) list of Nineteenth-Century African American Literature that readers of Iola Leroy might enjoy. I've included the list of selected writing of Harper's that we shared in the 2020 Virtual Dickens Universe, a list of nineteenth century mixed-race heroine fiction, and some other African American literature recommendations, including a handful of short stories that have only very recently been made available to contemporary readers! The list includes links to either online access or recommended print editions.
I share this with the hopes that your reading in early African American literature won't end with Iola Leroy.  For lovers of historical fiction, I highly recommend Toni Morrison's Beloved and A Mercy. And I urge you also to seek out living African American writers for your own reading choices and for what you recommend to the young people in your lives. (African American children's literature is also a wide and rich field!) Ask your local public librarians and independent booksellers for more recommendations!
Best,
Brigitte
--
Brigitte Nicole Fielder (she/her/hers)
Associate Professor
College of Letters and Science
University of Wisconsin-Madison
Madison, WI 53706-1507
---
Nineteenth-Century African American Literature Recommendations
for participants in the 2022 Dickens Universe, especially for new readers of Harper's Iola Leroy
Compiled by Dr. Brigitte Fielder
Selected Writing by Frances Ellen Watkins Harper
POETRY
Forest Leaves (Baltimore: James Young Printer, 184?)
Poems on Miscellaneous Subjects (Boston: J. B. Yerrinton & Son, Printers, 1854)
"The Massachusetts Fifty-Fourth." The Anglo-African (October 10, 1863)
Moses: A Story of the Nile. 2d ed. (Philadelphia: Merrihew, 1869)
Sketches of Southern Life [1st edition, 1872] (Philadelphia: Ferguson Bros. & Co., 1891)
FICTION
"The Two Offers"
Short story originally serialized in the Anglo-African Magazine 1 (1859)
Available to read via HathiTrust in two installments:
Minnie's Sacrifice
Novel originally serialized in The Christian Recorder (March 20, 1869 - September 25, 1869)
Sowing and Reaping: A Temperance Story
Novel originally serialized in The Christian Recorder (August 10, 1876 - February 8, 1877)
SPEECHES
"We Are All Bound Up Together"
Lecture at the Eleventh National Women's Rights Convention, New York, May 1866
Proceedings of the Eleventh Women's Rights Convention (New York: Robert J. Johnston, 1866)
"National Salvation"
Lecture for the Social, Civil, and Statistical Association of the Colored People, National Hall, Philadelphia, January 31, 1867; Philadelphia Evening Telegraph (February 1, 1867)
"Enlightened Motherhood"
Address before the Brooklyn Literary Society, November 15th, 1892
"Women's Political Future"
Speech before the World's Congress of Representative Women, Chicago, May 20, 1893
The World's Congress of Representative Women, ed. May Wright Sewall (Chicago: Rand McNally, 1894)
A Selection of African American & Anonymously Authored Fiction featuring Mixed-Race Protagonists from the "Long" 19th Century
Anonymous, The Woman of Colour (London, 1808)
Anonymous, "Theresa – A Haytien Tale," (Freedom's Journal, 1827)
Because this was published in the first known African American newspaper, Freedom's Journal, it is believed to have been written by a Black author.
William Wells Brown, Clotel; or, the President's Daughter (London, 1853)
Brown revised the mixed-race heroine genre three more times in Miralda; or, the Beautiful Quadroon. A Romance of American Slavery Founded on Fact (Weekly Anglo-African, 1860-1861), Clotelle: A Tale of the Southern States (1864), and Clotelle; or the Colored Heroine (1867), though not all of these are as readily available as Clotel.)
Harriet Wilson, Our Nig (1859)
Julia C. Collins, The Curse of Caste (the Christian Recorder, 1865)
(*Because scholars have not located all issues of the Christian Recorder, we do not have all chapters of this novel.)
William Wells Brown, Clotelle; or the Colored Heroine (1867)
Frances Ellen Watkins Harper, Minnie's Sacrifice (the Christian Recorder, 1869)
(*Because scholars have not located all issues of the Christian Recorder, we do not have all chapters of this novel.)
Frances Ellen Watkins Harper, Iola Leroy (1892)
Charles Chesnutt, "The Wife of His Youth" (Atlantic Monthly 1898)
Charles Chesnutt, "Her Virginia Mammy" (1898)
Charles Chesnutt, The House Behind the Cedars (1900)
Pauline Hopkins, "Talma Gordon" (Colored American, 1900)
Pauline Hopkins, Of One Blood; or, the Hidden Self (Colored American, 1902-1903)
Selected Narratives of Women's Escape from Slavery
Narrative of Sojourner Truth, 1850
Ellen and William Craft, Running a Thousand Miles for Freedom, 1860
Harriet Jacobs' Incidents in the Life of a Slave Girl, 1861
Additional Recommended 19th-Century African American Novels
Frank Webb, The Garies and their Friends (1857)
Hannah Crafts, The Bondswoman's Narrative (ca. 1853-1861)
Martin Delaney, Blake, or the Huts of America (1859)
Sutton Griggs, Imperium in Imperio (1899)
Charles Chesnutt, The Marrow of Tradition (1901)
Pauline Hopkins, Contending Forces (1900)
Nineteenth-Century African American Short Fiction that has Only Recently Been Made Available to Twenty-First Century Readers
Barbara E. Pope (1854-1908)
Profile of Barbara E. Pope by Jennifer Harris
Three Recently Recovered Short Stories by Pope:
Introduction to "The Old and The New Order" and "Truth versus Hypocrisy" by Eric Gardner
David A. Taylor's 2021 Washington Post article about Barbara Pope
Alice Dunbar-Nelson (1875-1935)
Euell A. Nielson's brief introduction to Alice Dunbar-Nelson from BlackPast
Two Recently Recovered Short Stories by Dunbar-Nelson:
Caroline Gebhard, Katherine Adams, Sandra A. Zagarell's Introduction to the above recovered Stories by Alice Dunbar-Nelson