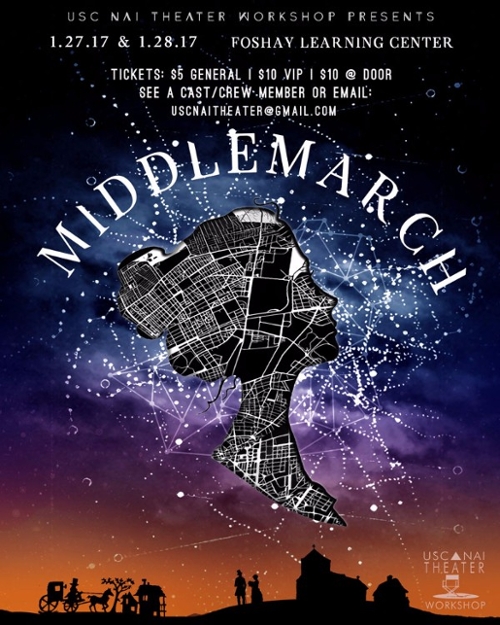 USC's Neighborhood Academic Iniative (NAI) Theater Workshop invites you to an original production of George Eliot's Middlemarch directed by Jacqueline Jean Barrios and Paul David Story. A rare company of South Los Angeles teens brings the 19th-century novel to life on the Foshay stage for two nights only, Friday, January 27th and Saturday, January 28th, 2017. The performances, featuring scenes and movement inspired by the literature, will culminate MiddleLab, a year-long study of the novel in the NAI seniors' AP English Literature classroom in collaboration with the Dickens Project.
In the fictional town of Middlemarch, an English town on the brink of modernity, Dorothea Brooke is on a quest for intellectual passion and social reform through marriage to the Reverend Edward Casaubon, a man twice her age. Tertius Lydgate, a young doctor seeking to revolutionize medicine, falls in love with the town beauty, Rosamond Vincy. The arrival of the young, passionate Will Ladislaw entangles Middlemarchers even more closely in a web of gossip, secrets and love.  
Performance: Doors open at 5:30 PM, show begins at 6:00 PM
Tickets: $5 General Admission | $10 VIP | $10 at the door
Location: Foshay Learning Center, 3751 S. Harvard Blvd., Los Angeles, CA 90018 | Directions
Questions? Email the cast and crew at uscnaitheater@gmail.com
---
MiddleLab Festival
January 27th, 8:00 AM – 12:00 PM
Miami Room, Foshay Learning Center
Join us for tea! Relive the manners of an English provincial town in your 19th century costume. Meet the scholars and discuss the novel's characters and topics: the entanglement of lives lived in community, the complexity of marriage and gender expectations, the quest for knowledge and truth. The Festival will feature student designed interactive activities, talks, a "Petri-Dish" art exhibit and guest scholars from the Dickens Project.