On March 8, 2017, UC Santa Cruz will be hosting their second annual Giving Day, a 24-hour online fundraising drive to support students, faculty, and campus programs. You can support Giving Day 2017 by helping spread the word, making a gift on March 8, or contributing to our challenge fund that rewards projects with the greatest number of donors.
Show your support for Dickens Project graduate students by donating on March 8th! 
Find the Dickens Project on givingday.ucsc.edu, under the Arts & Letters category.
Considered a premiere center for research on nineteenth-century literary and cultural studies, the Dickens Project is a multi-campus research consortium based at UC Santa Cruz. Now in its thirty-seventh year, the consortium includes members from forty-five universities and colleges around the globe. Through its annual conferences and events, the consortium promotes research on the life, work, and times of Charles Dickens, bringing the results of this research before scholarly audiences and the general public alike.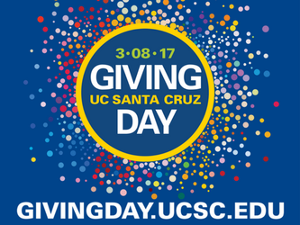 The Dickens Project is committed to developing the next generation of Victorian scholars. Biannual conferences provide graduate students with the opportunity to develop collegial relationships with Victorianists from other universities. These contacts are valuable in developing dissertation topics, finding jobs, and developing manuscripts for publication. Furthermore, participation in our program provides graduate students with opportunities for teaching, conference presentations, and service on academic panels. 
Generally, consortium schools cover travel costs for their graduate students to attend the Dickens Universe, but we know financial support from home institutions isn't always adequate or readily available. Our goal on Giving Day is to establish a fund to assist with travel costs associated with attending any Dickens Project event. This fund will help ease the financial burden on future participants and enable them to take maximum advantage of our programming.
To help establish a graduate travel grant program, three very generous donors, David Brownell, Julie Minnis, and former graduate student John Miller, have provided a 1:1 match up to $3,500 for gifts made on Giving Day. For every $850 you donate, we can provide one additional grad with the opportunity to travel to a Dickens Project sponsored event. With your help, we will expand our capacity to extend this opportunity to graduate students who otherwise wouldn't be able to afford to participate.
Help spread the word by using hashtags #dickensuniverse and #give2ucsc.